Embracing the Golden Years: A Journey of Reflection and Wisdom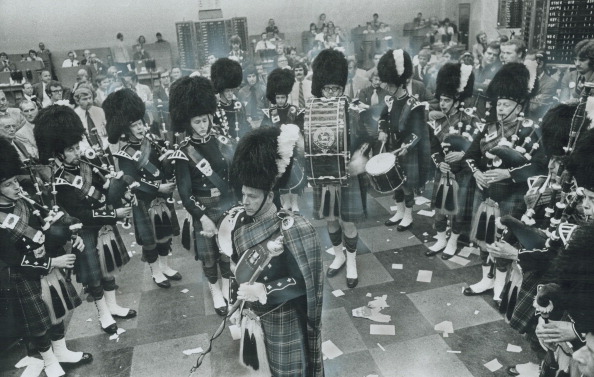 Topic: Human Interest, Inside Nexus
June 21, 2023
Image used with permission: Getty Images/Dick Darrell, Toronto Star
---
Embracing the Golden Years: A Journey of Reflection and Wisdom
Most of the floor traders that remained sat at the pull-down benches attached to their respective trading posts, where "post boys" would update the latest bids and offers with chalk beside stock symbols – IMO, DMP, HYO, RGO, etc. But few trades were being executed, and there was an unwillingness to meet in the middle. Traders would often sit and read the newspaper with a cigarette dangling from the corner of their mouths. The Toronto Sun, with its page 3 Sunshine Girl was popular, as were columns by Paul Rimstead, an old-style boozy columnist who had run for City of Toronto mayor in 1972 as a publicity stunt and died in 1987 at the age of 52. If a trader wanted to break the monotony, he might take the wad of gum out of his mouth, stick it to a used trade slip and toss it (gum side up) out on the floor amongst the hundreds of other abandoned trade slips and assorted detritus. Once the gum had been stepped on, he would alert any nearby traders who would point, laugh and heckle the unfortunate victim, as he dragged along the paper stuck to the sole of his shoe.
It was the summer of 1978 and I was working, as a summer student, for a mid-tier brokerage firm in one of the many "booths" that rose on three sides above the trading floor. Buy and sell orders from across the country would route to a firm's wire room in their Toronto office, then be phoned down to the floor to be executed by one of the firm's many colorfully-jacketed traders. My job was to write the number of shares and stock symbol on a piece of paper (buys on the left, sells on the right) and present it to the assigned trader in a timely fashion. On a slow day, it worked well, but when some takeover speculation rushed in, or big drilling news was announced, it could be pretty frantic.
Suddenly, there was a commotion at the doors from the north stairwell leading on to the trading floor. And what was that horrible high-pitched squeal?! The doors opened and onto the floor, behind a phalanx of about half a dozen traders, marched a Scottish Highland band, dressed in kilts with bagpipes a-blaring. The traders leading the parade had hats out, and as they slowly marched around the floor, traders, boothies and post boys rushed to fill the hats with 5's and 10's and, I daresay, a few 100's. Knowing that it would be a slow day, one of the traders had organized the event to raise funds for the Yonge St. Mission, a charity that, to this day, provides generous support to street-involved youth, families in need and community development in Toronto.
That pretty well sealed it for me. Bay Street (and not a law office), "Here I come!" From my vantage point, working on the floor seemed like a natural progression from my undergraduate studies at "Party U", which featured multiple viewings of Animal House, as well as a few toga parties. To further cement my confidence in the choice I was making, they rang the opening bell at 10:00 AM and that rather suited my then-body clock.
The following fall, after I had completed my university education, I was offered a full-time job by the same firm, but they were smart enough to place me in a back office position where I could do less damage than the summer before. (Remember the sells on the left, buys on the right thing? Oops. During frenzied takeover speculation for a junior oil stock, I had mistakenly indicated a sale rather than a buy on a 10,000 share order, before I handed the slip to the trader. Frankly, I'm surprised they asked me back.)
After spending some time in back office purgatory, I eventually moved on to stints in equity research and corporate planning. That I was promoted, as a 26 year-old with only an undergraduate degree, to the role of VP-Corporate Planning is testament to the casual nature of management for all but the biggest brokerage firms at the time. In my early working days, I had the great fortune of making countless friends, being nurtured by many invaluable mentors, and meeting some of the most colourful characters, the likes of whom may never be seen again (see my blog of Jan 16, 2018).
Driven by my interest in investing, I eventually moved to the Institutional Equity Sales desk in Montreal for a couple of years, and then back to Toronto. But while I started my Institutional Equity sales role at the same mid-sized brokerage where my career began, I spent the bulk of my 18 years in the role at, first, the brokerage arm of one of Canada's Big Five banks, and latterly at a global megabank.
The 90s and early aughts, were exciting times for people in my role. Very active portfolio managers from huge pension funds, mutual funds and hedge funds, were making big bets with their clients' money and we were the arms dealers encouraging and facilitating their behaviour. The tech boom and bust of that era epitomised the cutthroat greed and deleterious hubris of the industry, and as I approached middle age, I realised that I would rather work in an industry that does things for their clients, and not to their clients.
And with that, I moved to the Private Client Wealth Management side of the business. After gaining insights at a stop along the way, I wound up at Nexus Investment Management in 2011. I had actually been a client of the firm for ten years, (see my blog of April 2021) and so was very familiar with their growing business and long record of successfully planning and investing for families and foundations.
I will be retiring on June 30, 2023, but over the last dozen years, I have thoroughly enjoyed working with the great group at Nexus, whose client assets under administration have more than tripled, and whose headcount has more than doubled, in that time. It has been a pleasure to be a part of it. And I find it hard to describe the tremendous friendships that I formed with so many of my clients. I feel very fortunate to go out on such a high note and hope that our paths will cross frequently.
"Goodbye always makes my throat hurt." – Charlie Brown
On a Side Note…
See another CRM2 Nexus Notes Quarterly article that may be of interest to you.
On a Side Note…
See another Foundations & Endowments Nexus Notes Quarterly article that may be of interest to you.
Topic:
Foundations & Endowments
Excerpt:
Giving to charities and supporting our community are important to us at Nexus. We donate a portion of our management fees back to the charities and
On a Side Note…
See another Human Interest Nexus Notes Quarterly article that may be of interest to you.
Excerpt:
A little humour makes the world a better place.
On a Side Note…
See another Inside Nexus Nexus Notes Quarterly article that may be of interest to you.
Excerpt:
Many small, once independently managed, firms have fallen into the clutches of larger organizations such as banks, institutional money managers and
On a Side Note…
See another Investments Nexus Notes Quarterly article that may be of interest to you.
Excerpt:
A recent article by David Brooks in The Atlantic magazine argues that, despite the heavy shroud of pessimism that envelopes most of our current
On a Side Note…
See another Pearls of Wisdom Nexus Notes Quarterly article that may be of interest to you.
Excerpt:
Reading is one of the principal occupations in our profession. As we digest a wide range of material, interesting ideas and surprising facts – some
On a Side Note…
See another Tax Planning Nexus Notes Quarterly article that may be of interest to you.
Excerpt:
The FHSA is a registered plan to help Canadians save for their first home and could play a role in either your or your adult child's overall wealth
On a Side Note…
See another Wealth Planning Nexus Notes Quarterly article that may be of interest to you.
Topic:
Wealth Planning, Living to 100
Excerpt:
As part of our Living to 100 series, Nexus hosted a client event in June featuring guest speaker Karen Henderson, an expert in long-term care planning